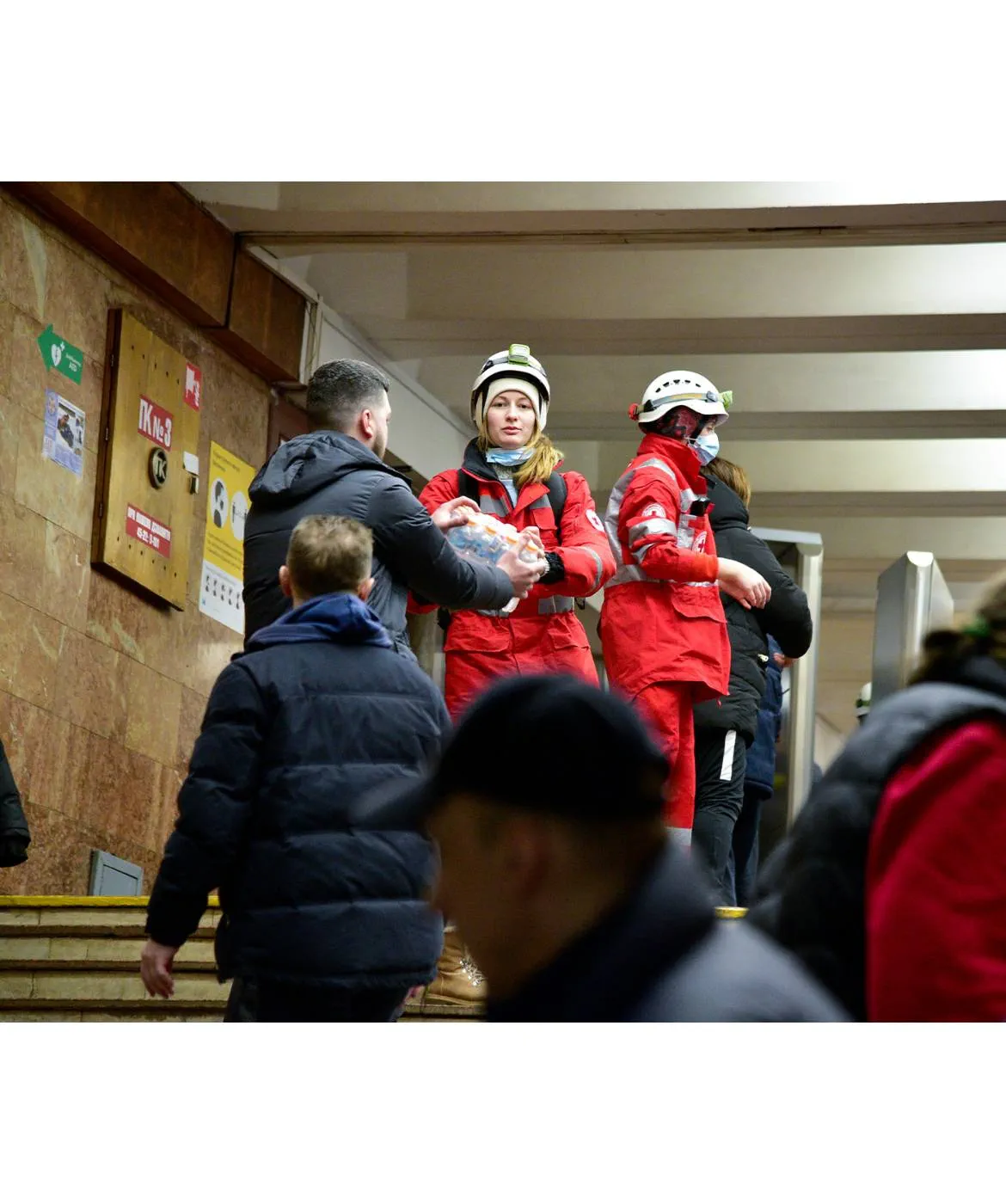 A donation to power our response.
Prior to the Ukraine Crisis, over 80 million people were displaced across the world, forcing women, young children and families in Syria, Yemen, Afghanistan, and around the world to seek refuge and asylum to escape persecution, violence, war and death. Now a further 10 million people have joined that devastating number, making the work that we do even more vital.
There's never been a more important time for the British Red Cross – and every member of the International Red Cross and Red Crescent Movement – to be there for people in crisis.
How the Red Cross supports people in need
If you're living through a crisis, the Red Cross will always listen to what you need and strive to get you the right help – whether that's food, clothing, first aid, cash, healthcare, or emotional support. We're committed to supporting people in crisis in the UK and across the world, but we can't do this without you.
The emergencies might be different – from dealing with floods or drought caused by climate change, to leaving your country to find safety, to suffering alone with poor health – but we are always there for those who most need our help, without discrimination and always with kindness.
Donate to help the British Red Cross today.
Why donate to the British Red Cross?
A donation to the Red Cross can help us to support millions of people in need. As a proud member of the International Red Cross and Red Crescent Movement, with our teams working in 192 countries under the same red cross emblem – a powerful symbol of protection.
Our network of incredible staff and volunteers means we are uniquely placed to reach people in fearful, uncertain times.
But we're nothing without you.
We depend on charitable donations to all areas of our work to be able to launch an effective response to crises when they happen.
Regular charity donations ensure we can coordinate our charity operations, and deliver work that can help build a community's resilience against future emergencies.
Your donation to the Red Cross will help us to deliver our vital services in the UK and overseas – including our work to support people in crisis, and reunite separated families.
Put simply, without the kind people who donate to the Red Cross, we simply wouldn't exist. With them, and with you, we can reach people with support that can be life-changing and sometimes life-saving.
If you can help fund our work today with a regular gift or donation, please do.
Make a donation to the Red Cross.
Where does British Red Cross money go?
£10 could help fuel two of our emergency vehicles to reach people in trouble in the UK.
£30 could provide a cash grant to a household in Myanmar to support them to build latrines.
£65 could pay for an ambulance and crew to take people to and from hospital for a day, helping to ease the strain on the NHS.
£85 could help to provide agricultural training to a farmer in Kenya affected by climate change to support their livelihoods.
We refuse to ignore people in crisis. We help people cope with disasters, conflicts and personal crises in the UK and overseas.
In 2020, thanks to your kindness, we helped provide:
14,660
medicine deliveries
101,298
food deliveries
Other ways to donate
By phone
By post
Other downloads