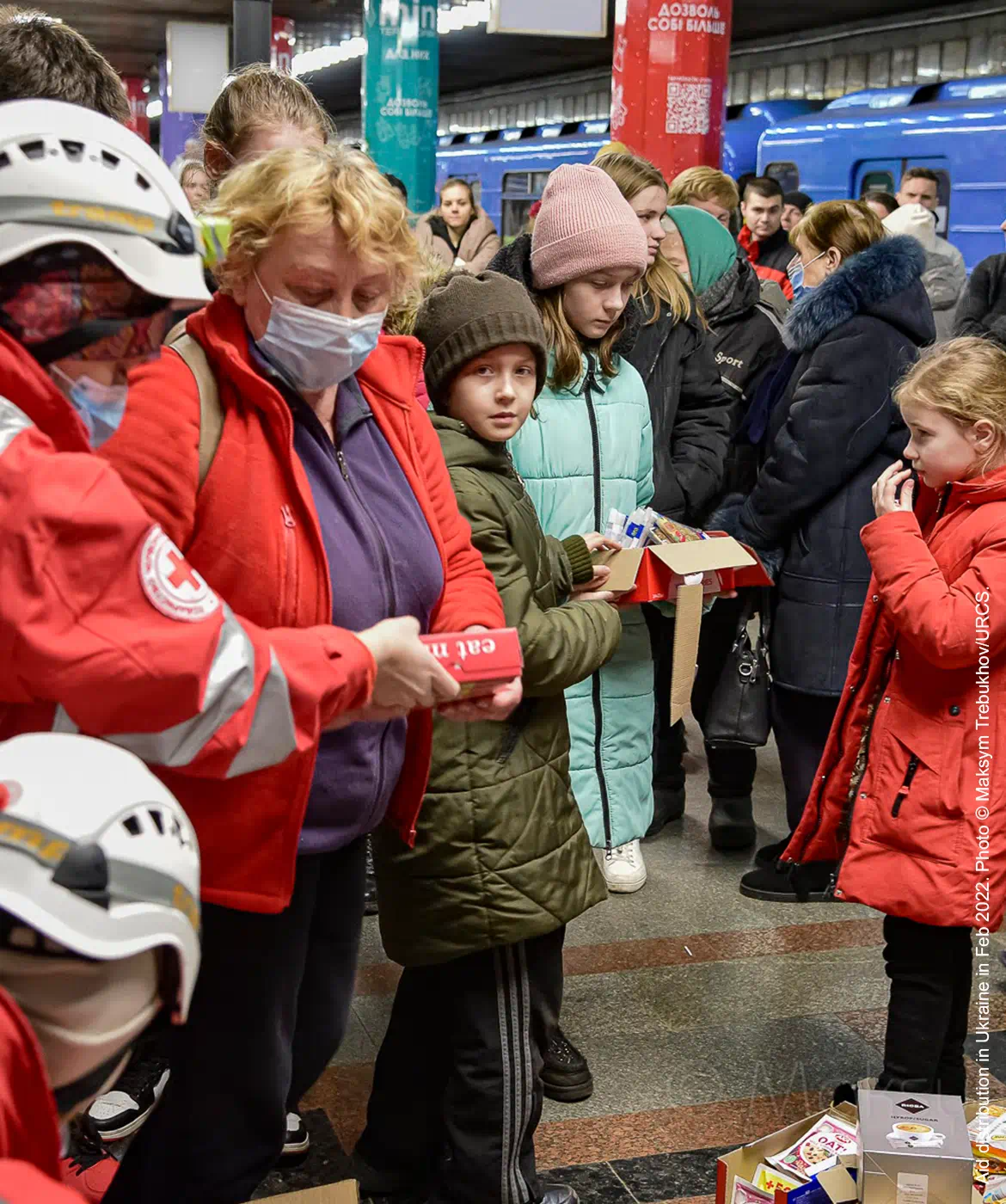 The crisis in Ukraine keeps unfolding – please donate
Millions of people have no safe place to call home. More than 6.6 million have already left Ukraine, and it's estimated around 8 million are displaced internally.
Hundreds of thousands of people still have no food, no water, no medical care, and no heat or electricity.
Red Cross teams have been working around the clock to get critical care to those who need it most, both in Ukraine and its bordering countries. With ongoing violence, an enormous number of people urgently need help right now.
We know the news coverage is overwhelming. But we need your support to keep responding. The best way to do that is with a monthly donation. This situation is changing rapidly and will affect people for some time. But knowing we can rely on your support, together, we can give hope to people in the darkest of times.
Please donate right now if you can.
How will my donation help people in Ukraine?
As the security situation allows, the Ukrainian Red Cross Society (URCS) and the International Committee of the Red Cross (ICRC) will continue to respond to existing and emerging humanitarian needs. The Red Cross has supported people affected by this conflict for years and this will not stop now.
Your donation could help someone affected get:
• food
• water
• first aid
• medicines
• warm clothes
• shelter
Please donate today.
What is the Red Cross doing to help people now?
So far, Red Cross teams have reached more than 3.6 million people with emergency support, since the conflict began. This includes distributing 2.3 million kilograms of vital aid, including food, blankets, hygiene parcels and warm clothes.
First aid training has also been delivered to over 42,000 people so they have the skills to treat their loved ones if needed.
They've also been providing psychosocial support, and helping people regain contact with their loved ones if they've been separated.
Red Cross teams in bordering countries are offering medical care and providing food, aid and shelter to people arriving from Ukraine.
How is the British Red Cross supporting refugees from Ukraine in the UK?
British Red Cross teams are supporting people arriving at Port of Tyne, Luton airport, St Pancras Welcome Centre in London, Birmingham International Airport, the Nottingham branch of Association of Ukrainians in Great Britain and also at Monmouthshire Welcome Hub in Wales. We are also supporting people at Northern Ireland Ukraine assistance centres in Belfast, Newry, Craigavon and Ballymena. We have supported more than 7,000 people so far.
Our teams are providing psychosocial and practical support through things like food, water, hygiene items and essentials to help people keep in touch, like SIM cards, mobile phones and chargers. We are also distributing welcome packs in multiple languages, and one-off cash sums, provided via a debit card, to help people buy what they need when they arrive. Where possible, we are also providing people with mobility aids, such as wheelchairs.
Your donation will help us reach more people.
£10 could provide a hygiene kit to a family of five, giving them supplies to stay healthy for a month
£20 could provide five blankets to families taking shelter
£30 could provide 3,600 chlorine tablets to ensure that families have access to clean, safe water
£100 could provide sleeping mats for 66 people who have been forced from their homes
£210 could provide a fully equipped first aid kit, including supplies, to a first aider treating those wounded
Other ways to donate
By phone
By post