The impact of climate change can be deadly. We need your support.
People's lives are being devastated by the changing climate, on an enormous scale and at speed. Across the UK and Europe, we saw extreme heatwaves and wildfires last summer, whilst communities in Bangladesh faced one of the worst flooding in over 100 years. And right now, drought in Sub-Saharan African is contributing to a severe food crisis that's affecting 141 million people.
When these disasters strike, people's health, homes, and livelihoods are put in danger – and the most vulnerable are usually hit hardest.
The British Red Cross has been supporting people affected by climate change for decades, both overseas and here in the UK. But as climate emergencies grow, we have to step up the scale of our response. We need to act now.
Where will my money go?
When you donate, your money is going to help someone, somewhere, who's been affected by climate-related disasters.
£10 could help fuel two of our emergency vehicles to reach people in trouble in the UK.
£38 could buy blankets for 75 people who have been evacuated from their homes following severe flooding in the UK.
£70 could provide 70 chickens to farmers in Kenya affected by climate change to support their livelihoods and families.
£108 could help train 180 Junior and Youth Nepalese Red Cross team members in healthcare and environmentally friendly ways to adapt to living with climate change.
Make a secure donation to help someone in crisis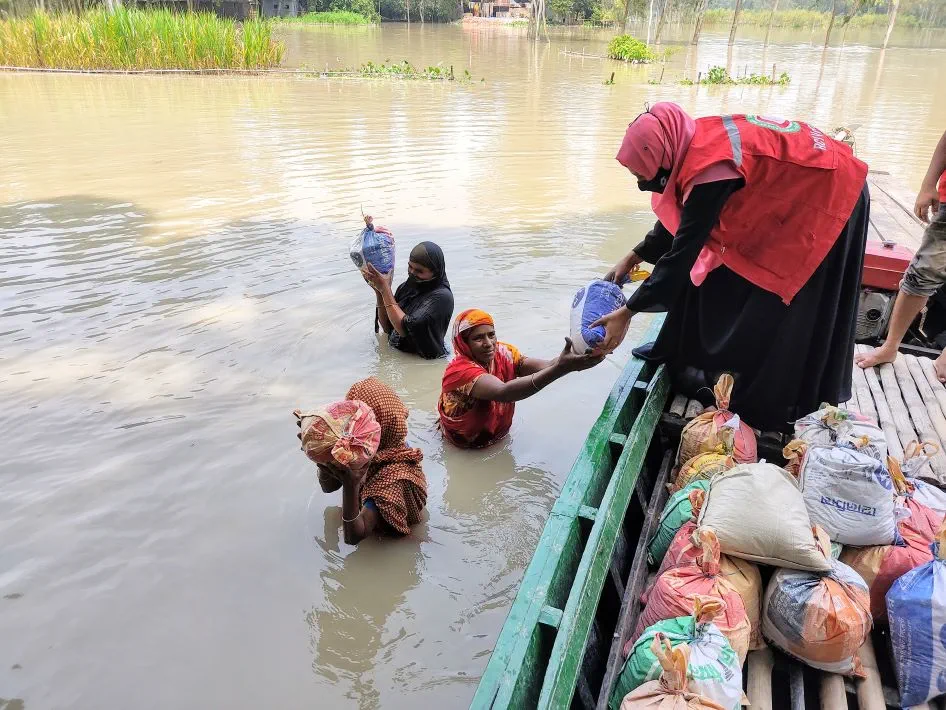 How does the Red Cross help people affected by climate change?
Our Red Cross teams work side by side with communities, listening to what people need right now. With 165,000 local branches and the support of 14 million volunteers, we're there on the ground, helping people prepare for, respond to, and recover from the impacts of climate change.
As well as responding to emergencies in the UK and across the world, we also work with communities to act early on the threat of extreme weather events. We share life-changing training on climate-smart farming techniques, and we support people's livelihoods and get them back on their feet after disaster strikes.
But we need donations to keep our work going. If you can, please donate today.
Why should I donate to the British Red Cross?
With millions of volunteers across 192 countries, we are part of the world's largest humanitarian movement. This means that Red Cross teams can respond quickly to get help to people as soon as a crisis happens – whether that's food, water, clothing, first aid, cash, healthcare, or psychosocial support.
Your donation helps us be there for people who need us most, without discrimination and with kindness.
Make a secure donation
Other ways to donate
By phone
By post
Direct Debit by Post