A severe food crisis is escalating across Africa – please help.
More than 150 million people in Sub-Saharan Africa, can't get enough to eat, putting some in serious danger of disease and starvation.
It is a deadly and escalating situation that is pushing some of the most resilient and resourceful people in the world to their breaking point. Although that doesn't happen overnight, the situation is still critical.
For example, in Ethiopia, Somalia, Kenya and Nigeria it's expected that around 10.3 million children under the age of five will suffer from acute malnutrition this year.
We do not want to be sharing these awful numbers. But it is a catastrophic, escalating emergency, on a scale that we've not seen in recent history.
From the climate crisis triggering severe droughts and flash floods, to internal conflict, to rising food, fuel and fertiliser prices, it's being driven by a complex combination of different factors. Red Cross and Red Crescent teams are providing immediate aid across different parts of the continent to reach communities hit hardest, with food, water, cash, nutrition services and healthcare.
To help with long term sustainable solutions, we're also supporting people to build resilience, with tools and skills to help people to adapt to extreme weather and the effects of climate change.
There are solutions to this food crisis. Your donations can help now, and with sustainable local-led action in the longer term. Some of the world's most resilient and resourceful people are being pushed to the very edge, losing their loved ones and livelihoods - the last thing we should do is give up on them.
Please donate to our Africa Food Crisis Appeal right now, if you can.
How your donations could help
You can help us reach people who've been hit by this crisis.
£13 could provide a person with a month's supply of healthy and nutritious food.
£37 could help to provide a six-week course of life-saving plumpy nut to treat a child with severe malnutrition.
£100 could help buy two goats for a family that may have lost their livestock to drought or floods. This can restart a source of income for the family as well as provide milk for their children.
No gift is too small to make a difference, so if you can please donate today.
Kuresh's story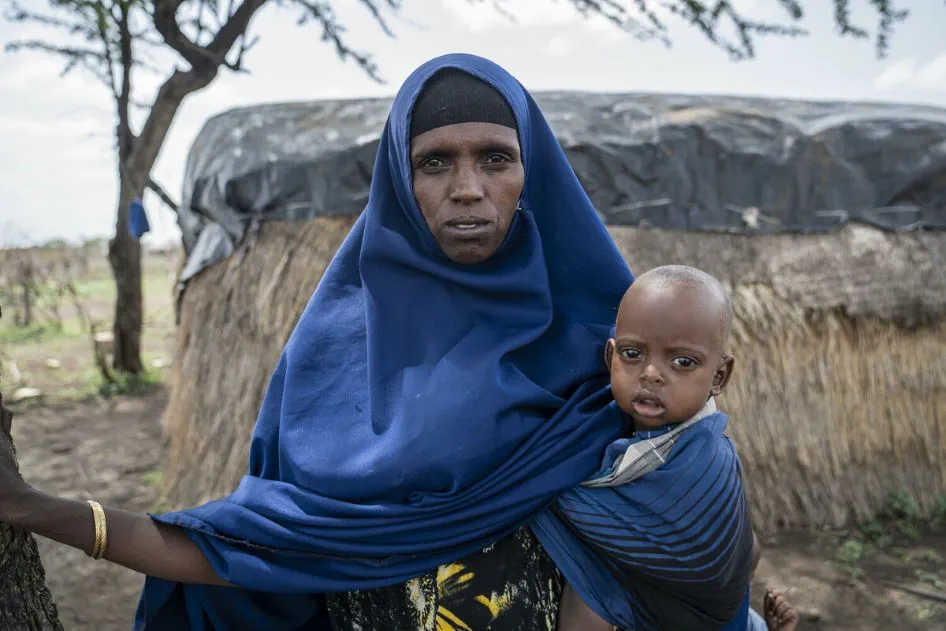 Kuresh lives in the Somali region of Ethiopia, which is experiencing its worst drought in 40 years. Her livestock have died and her youngest child Ruden is sick, but without her animals Kuresh can't pay for medical treatment.

"There is no farmland to cultivate, no livestock and no rain, too many problems. The previous wealthy families and the poor ones are now the same. They all have nothing."

But Kuresh remains positive. She will soon receive an Ethiopian Red Cross multipurpose cash grant, which will allow her to buy more livestock, food or medicine for her children.

She flashes a bright smile as she says, "We are hoping for a better future."
Please donate now if you can.
Other ways to donate
By phone
By post